News Archive

very busy
posted by Tod Wills on August 22nd, 2011
I'm sorry to say that I'm very busy with my other obligations, right now, and will get this ship moving again as soon as I can. My apologies.

Rilus Gift Art, End of Intermission
posted by Tod Wills on July 10th, 2011
Taelifoe over on Livejournal drew me this awesome picture of Rilus for my birthday! Thank you! It rocks!
I'm back from my trip to Colorado, over the course of which ArtSlam didn't really work out for me as well as I'd planned. Instead of starting that up again, I'm going to get back to work on Ekwara page. The intermission will end as soon as I get the next page done. It won't be tomorrow, but I'll aim for having updates start up again the Monday after that. Thanks for your patience!

Jine
posted by Tod Wills on June 5th, 2011
The jine (sun lion), which lives in the Auln region, is one of only two extant big cat (Panthera) species on the continent. The other is a larger but closely related solitary hunter that lives in the mountains near Mestraud.

Ekwara Swag
posted by Tod Wills on April 5th, 2011
The "Lost in Ekwara" design is available on t-shirts and a mug on Zazzle! I'll be adding more items soon. Check 'em out!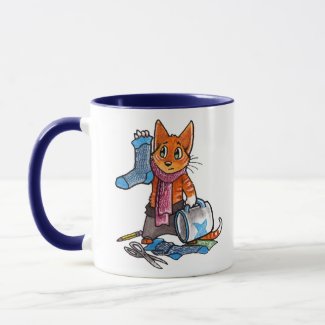 Lost in Ekwara Mug
by
ninjahijinx
See other
Cat Mugs
Lost in Ekwara T-shirt
by
ninjahijinx
Become a
shirt affiliate
at zazzle.com

Mini-Hiatus, brb
posted by Tod Wills on March 18th, 2011
I need to take a couple of days to get myself caught up on work-projects, but will be returning to Ekwara's regular update schedule this Monday. See you then!

Undead Island
posted by Tod Wills on March 3rd, 2011
Please excuse today's break in the story to bring you some art I can finally upload! I've been working with Team Phobic on some of the art for their latest side-scrolling iphone game, Undead Island. I am given to understand there is some other video game with islands and the dead coming up, which is a little bit of an annoying coincidence, but... our game is out now!
You can pick it up for your iphone or ipad here!
I did the cut-scene art, helped with the story, and did the award graphics. Meanwhile the folks at Team Phobic turned my pictures into some voiced-over cutscenes, made a bunch of cool in-game graphics and bad-guys and levels and... it looks to be a good time, if you're into this sort of thing. I'm pretty excited, and I don't even play video games. ;)

Setting Introduction Comic
posted by Tod Wills on February 8th, 2011
I shuffled Fenmere's guest art around so I had enough space in the calendar archive to upload the setting introduction comic. The final page, which is brief, is queued up to post on Wednesday, and I'll use the extra time to get the regular story updates going again. I hope you enjoy the setting comic. It was a -lot- of work, most of it done over the course of three days, last weekend.
I know there are a couple misspellings in the scans, which are fixed on the originals. I'll go through and fix those up. I forgot about that until I started uploading them. Derp...

Guest Art by Fenmere
posted by Tod Wills on January 25th, 2011
Today's lovely guest art comes from my friend Fenmere, of Harmless Free Radicals. You can check out his art here -
http://www.grassdogstudio.com/
!

The Southern Jungles
posted by Tod Wills on January 18th, 2011
Story went one page under, so here's a map of the Southern Jungles, where the next part of the story takes place. This region is under the control of the dragon Inerraan, who lives in an opulent underwater palace in one of the lakes of the Crocodile's Pearls chain, further to the north. Inerraan's territory is the largest of any of the dragons, and it is considered the second in command, or most powerful, of the nine dragons under the Dragon King.
In the jungles, the city-states under Inerraan's rule are mostly located along the coast. There are many people of various species living deeper in the jungle, but the region is notoriously difficult to police simply because it is so inaccessible, and on the far border of Inerraan's realm.
The population is the usual mix of Ekwarian species, with a few only found in large numbers here: pandril and ferix (who are not especially kind to outsiders, as the skull and crossbones might indicate). It also has a large vedrig and shrinn population outside the cities.

A good suggestion
posted by Tod Wills on January 13th, 2011
Thanks to a great suggestion, and an admitted lack of clarity on my part, I'm going to be putting what's said in the sign language Brenleon uses in square-shaped speech bubbles. Hopefully this makes it more clear when people are speaking in signs, and when Brenleon is relying on lip-reading. I've been trying to do this by having the bubbles pointing at hands instead of mouths, but that doesn't always work, and I think this will make things read much better. When I do the final version of the comic, that will be fixed in prior pages.